Yogacampus have brought their brilliant Teacher Training to York. I'm delighted to say that I'm part of the team.
The course offers carefully structured learning development for any potential Yoga Teacher. Modules range from teaching safe physical  practice to beginners to more advanced understanding of the subtle aspects of our being. By the end of the Teacher Training course student will have developed a more thorough understanding of the depth and breadth of Yoga. Specialist teachers are invited to share their enthusiasm and deliver high quality training. Having delivered these courses since 2003, Yogacampus have great experience in helping nurture aspiring teachers.
What I love about the Teacher Training provided by Yogacampus is that all styles, schools, disciplines of Yoga are welcomed. There is no dogmatic insistence on The Right Way. Rather, the training affirms the wisdom within each and every one of us to find our own path of authenticity and integrity. However, this freedom is balanced and guided with sincere respect and study of the ancient teachings of Yoga as well as embracing the understanding of contemporary masters.
Our next course is due to start in June 2019, with a free Taster day on 23 March in the Priory Street Centre, 15 Priory Street, York, YO1 6ET  See here to book.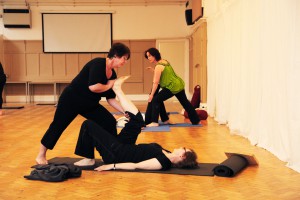 Partner ham string stretches help free the body so that asanas such as adho mukha svanasana (downward dog) are easy to embody.