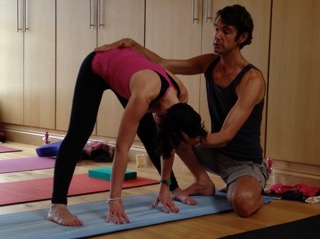 Sadly we've had to cancel this workshop – but we will be arranging another ….
One of the most skilled, gifted and kind teachers I have met. A teacher who comes from his heart.
Bill has worked/played for many years with the explorative and empowering approach to yoga which Vanda Scaravelli developed.
This is yoga which comes from the inside, feeling into the whole body and allowing shape to emerge from within. Rather than imposing postures there is more a sense of an invitation. Practicing with this self respect the body becomes a willing dance partner, able to move with more freedom and ease.
With a strong practice in Meditation, Bill brings a real sense of presence to his teaching which he is able to inspire in his students.
With a long history of practice in Psychotherapy, Bill brings a profound respect for each individual which is a delight to experience and witness.
Perhaps most importantly Bill brings a lovely sense of relaxed light heartedness. This is a yogi who walks his talk.
We are very lucky to have a whole weekend with him to dive deep into our practice. Numbers are limited to enable more personal contact, room to practice and also encourage a spirit of ease.
Friday 4 – 6.30pm followed by a delicious supper
Saturday 10 am – 4pm with a simple soup lunch provided
Sunday 10 am – 1 pm, simple soup lunch to see you home!
Teas and coffee and fruit and nuts also provided.
There are lots of good local b and b's to stay in and public transport to the site is very good too.
£148 with all food and drink included.
please email sonia@1body1soul.co.uk to book your place.
Friday 26 to Sunday 28 June
York Steiner School
Fulford Cross, York, YO10 4PB