J
Autumn Healing Yoga Retreat
A long immersion
from 5 pm Wednesday 30 Sept to 2pm Sunday 4 October 2020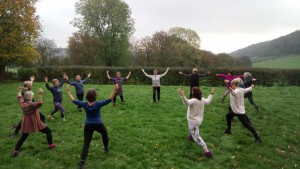 In a beautiful huge old Victorian house in the North Yorkshire Moors.  Wood panelled walls, open fires, rambling stair cases, comfy bedrooms,  …  surrounded by Nature. You can hear the sound of silence. 
I've hired the beautiful local village hall so that we can have ample space for our yoga exploration and practice.
Years of running retreats has taught me one important thing. Friday to Sunday is not long enough to enable real benefit. 
This retreat is specifically designed to enable you to relax deeply and profoundly, to enable the mindbody to release held stresses, to rebalance and re-energise. From this state so real health and vitality can be embodied.
We have 3 full days to yoga, receive a healing therapy, walk, play with arts and crafts.
Giving more time to yourself is a wise, wise investment.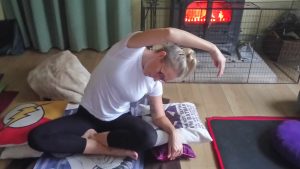 The retreat will include:
Yoga in Nature
dynamic, restorative and therapeutic Hatha Yoga
pranayama (breathwork)
meditation
a one hour therapy of your choice
art/craft sessions 
being Autumn – a good time to detox – a couple of kriyas (cleansing practices)
lots of free time to walk, read, talk, sleep … follow that heart!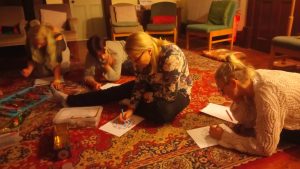 Limited to 12 places.
The house can accommodate many more people but the aim of this retreat is to offer space, easy friendship and peace.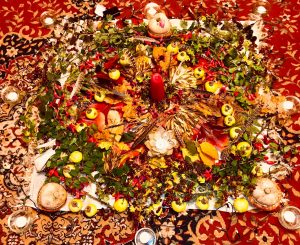 Fully catered with lots of delicious food, drinks and treats .. even a glass of Ayurvedic mulled wine ~ yum.
£342. You can book by making a deposit of £60 – payment plans to suit you are absolutely fine.
Several single rooms, otherwise sharing a room with one or two other people.
Book by emailing sonia@1body1soul.co.uk or feel free to contact me with any questions.
Feedback from previous retreats
"This weekend has been brilliant"   Val
"The whole experience has been very, very special. The atmosphere has been warm, nurturing and lots of fun. I leave feeling full of joy and also brimming with love and compassion and enthusiasm."   Liz
"A wonderful weekend"  Andrea
"A fantastic weekend"   Karen
"An amazing experience."   Sally
"The venue, the programme, the food, the company, Sonia, the stars! All brilliant!"   Sam
Terms and conditions
Up to two weeks before the retreat all moneys are refundable as long as someone else is able to take your place, minus £60 admin fee for being annoying. Most events sell out and have waiting lists but I can get very busy with my Teacher Training work so please do give me as much notice as possible.
Summer Yoga Retreat
Yorkshire Dales 
12/13 May to 16 May 2021. 
The spirit of yoga.
The soul of dance.
The art of life.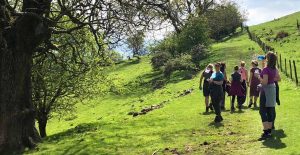 Come and relax, revitalise and play!
. . .  discover some hidden treasures.
A long weekend from 4pm Wed 12 May/Thursday 13 May
to 10.30 am Sunday 16 May 2021.

Yoga in Nature, Restorative Yoga and Meditation
Healing liberation of dance
Painting, sculpting, crafting
Walking, hiking, 
Friday festivities
bring your fine finery.
Swimming, outdoor fires and star gazing
Take time out to dive in and rise on up.
Let's celebrate our uniqueness within our unity.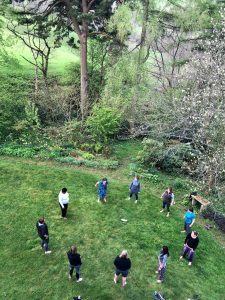 Staying at a spacious bunkhouse barn which has its own private field leading down to the River Ribble. 
One of the 3 peaks, Pen-y-ghent, is nearby – plenty of time to ramble or hike. There is a huge adjoining barn which has been converted as a dance and party space. Let's celebrate!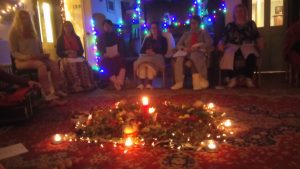 I've invited great guest facilitators to help make the magic happen: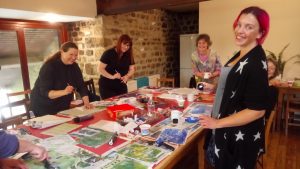 art workshop leaders Angela and Simon Dawson
world music dj Milena Dragic
chi gong with the lovely Fran Holden
AND … oh my gosh oh my gosh! ….Captain of the Lost Waves! is coming to share his gifts. An incredible performer who touches heart and soul, with skill, passion and humour. Just brilliant. In terms of celebrating the joy and wonder of being alive  – he's the man. Check him out on youtube here
The camping barn can sleep 54 but numbers are limited to 24 to ensure everyone has a quieter bedroom and so our commUNITY can grow. Camping and a private flat also available.
Delicious food and drinks all provided from 4pm Thursday 13 May.
I've managed to book an extra night – Wed 12 May at the camping barn in 2021. This extra night and day is optional – the retreat will really kick off on the Thursday afternoon. You're free to choose if you'd like to come earlier. Personally I believe it's well worth giving ourselves time to land, ramble around and do just as we please. You'll only have to contribute another £30 for this extra night/day of freedom in the Yorkshire Dales – we can all bring food to share. From 4pm Thursday my fab crew and I will be sorting activites and catering. And we will all be ready to welcome those coming a bit later with open hearts and arms.
A long retreat – be it from the Wed or Thurs night – makes all the difference – this isnt a retreat to work as a salve for life, a temporary relief. Its more like a sacred medicine for your life, helping you get in touch with real joy and freedom. Potentially lifechanging. 
Lift sharing will be enabled. Taxis from from Settle train station, the local town, cost around £8.
£292 early bird price (by the end of May 2021) – deposit £60. Happy to arrange payment plans. Camping £162 early bird price. For private accommodation in the self contained adjoining flat for 2 people add £180. Additional Wed night is another £30 if staying in the barn, £12 if camping in the field. Lucky early gatherers to bring food to share until retreat proper starts at 4pm on Thursday.
Book by emailing sonia@1body1soul.co.uk or feel free to contact me with any questions.