Summer Yoga Retreat
Yorkshire Dales 
2022 Wed June 22 to Sunday 26 ~ and likely to be extended . . . 
Reviews from this year's event:
"One of the best things I've done in my life. See you next year."   Lynne
"the location is stunning … the yoga beautifully created to build trust and openess … the fire was a perfect celebration circle … the food was incredible … you've made something really special here."   Becca
"Brilliant!!! I made fantastic new friends … got creative … enjoyed nourishing yoga … experienced stillness in nature … swam … delightful memories to treasure! A rare gift for us all."   Debra
"Wonderfully restorative retreat hosted with love, support and care … offering a wide range of experiences and joys. It is a not to be missed opportunity to connect, de-stress and move forward with a community wanting to grow."   Roz
"It was a truly wonderful retreat … I came away feeling blessed. Relaxing, energising … thank you."   Barbara
More info in due course = in the meantime – save the dates. xxx
16/17 to 20 June 2021
The spirit of yoga. 
The soul of dance.
The art of life.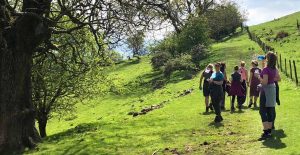 Come and relax, revitalise and play!
. . .  discover some hidden treasures.
A long weekend from 4pm Wed 16 June/Thursday 17 June
to 11.30 am Sunday 20 June 2021.

Yoga in Nature, Restorative Yoga and Meditation
Healing liberation of dance
Walking, hiking
Upcycle your clothes
Tie~dye your life.
Friday festivities
with live music from a magikal maestro
~ bring your fine finery
or not . . . the choice is always    y o u r s   🙂
Water bathing, outdoor fires and star gazing
Take time out to dive in and rise on up.
Let's celebrate our uniqueness within our unity.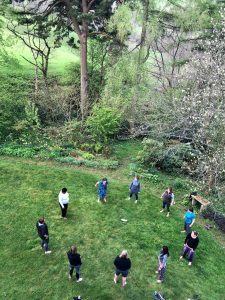 Staying at a spacious bunkhouse barn which has its own private field leading down to the River Ribble. 
One of the 3 peaks, Pen-y-ghent, is nearby – plenty of time to ramble or hike. There is a huge adjoining barn which has been converted as a dance and party space. Let's celebrate!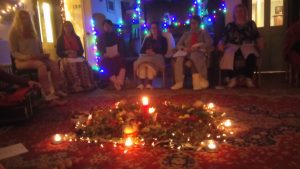 I've invited great guest facilitators to help make the magic happen: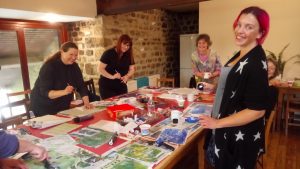 art workshop leaders including Plum Bovan
world music dj Milena Dragic
chi gong with the lovely Fran Holden
and wow!
….Captain of the Lost Waves! is coming to share his gifts. An incredible performer who touches heart and soul with skill, passion and humour. Just brilliant. In terms of celebrating the joy and wonder of being alive  – he's the man. Check him out on youtube here
The camping barn can sleep 54 but numbers are limited to 24 to ensure everyone has a quieter bedroom and so our commUNITY can grow. Camping also available.
Delicious food and drinks all provided from 4pm Thursday 17 June.
Healing therapies will also be available for you to book privately ie not included in this already very fair trade price.
You can book an extra night – Wed 16 June. This extra night is optional – the retreat will really kick off on the Thursday afternoon. Personally I believe it's well worth giving ourselves time to land, ramble around and do just as we please. You'll only have to contribute another £30/£12 (camping barn/camping field) for this extra night/day of freedom – basics provided and we can all bring some food to share. From 4pm Thursday my fab crew and I will be providing all activites and catering. And we will all be ready to welcome those coming a bit later with open hearts and arms.
A long retreat – be it from the Wed or Thurs night – makes all the difference – this isnt a retreat to work as a salve for life, a temporary relief. Its more like a sacred medicine for your life, helping you get in touch with real joy and freedom. Potentially lifechanging. 
Lift sharing will be enabled. Taxis from from Settle train station, the local town, cost around £8.
£324 for the barn, £240 camping.
No more room at the inn but a couple of  spaces left for cosmic campers. Feel free to join the magical waiting list for the barn.
Additional Wed night is another £30 if staying in the barn, £12 if camping in the field. 
Book by emailing sonia@1body1soul.co.uk or feel free to contact me with any questions.
Feedback from previous retreats
"The whole experience has been very, very special. The atmosphere has been warm, nurturing and lots of fun. I leave feeling full of joy and also brimming with love and compassion and enthusiasm."   Liz
"An amazing experience."   Sally
"The venue, the programme, the food, the company, Sonia, the stars! All brilliant!"   Sam
Terms and conditions
Up to two weeks before the retreat all moneys are refundable as long as someone else is able to take your place, minus £60 admin fee for being annoying. Most events sell out and have waiting lists but I can get very busy with my Teacher Training work so please do give me as much notice as possible. Thank you.