I'm Sonia Perry  – a yoga teacher in York with over 40 years experience
BA (Hons), MBRCP, BWY (Dip), BCYT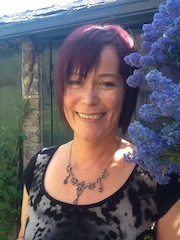 I started my journey in yoga at 14, thanks to my adventurous mother. Yoga became especially important to me in my early 20′s when I worked in television, a fairly high pressured environment.
When I retrained as a Natural Health Therapist in my later 20's and through my 30′s, yoga helped me 'walk my talk'. I was well equipped me with tools to practice and share as a therapist and workshop leader. One qualification led to onto study of another – I travelled a journey from Advanced Kinesiology, to Reflexology, to Healing, Neurolinguistic Programming and Hypnotherapy. The relationship between mind.body.spirit proved to be fascinating.
In my 40′s yoga helped me maintain sanity and health as a working single mama of two lively tykes. I studied the British Wheel of Yoga's year long Foundation course as a way of maintaining my sanity and fell in love. I was stunned to find that much of the wisdom I had been working with over the past two decades in my work as a Natural Health therapist was all there – in yoga. Yoga is much much more than asana practice. Asana practice is crucial but so is understanding of all of the levels of our human being. It was a nobrainer to commit to the rigorous 3 year BWY Diploma Teacher Training.
Now in my 50's (what?) yoga nourishes, inspires and invigorates me. It is such rewarding work. Every week I witness people improve the quality of their lives. And every year I have the great joy and satisfaction of working with the very brilliant Yogacampus training more people to become skilled and empowered yoga teachers.
Years of experience have given me a deeper understanding of the mind-body-spirit connection and ready access to intuitive abilities.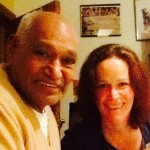 Now I am able to combine both roles of teacher and therapist as for the past 7 years I have been studying more self healing approaches developed by Yogachara Dr Mukunde Bhole in Anubhava Yoga and have completed certification in Therapeutic Yoga, accredited by the British Council of Yoga Therapy.
What I love about Yoga is how easy it is to help ourselves. We can be truly empowered to affect our health and well being. Just a bit of regular enjoyable commitment and your life will naturally blossom. Yoga continues to surprise me in my own life. Addictions fall away, negative thought patterns are easier to catch and transform, more creative ways of living become clearer. You can enjoy a natural drive to make more loving choices for yourself. The mind.body.spirit can flourish as One.
I continue to gain more experience and knowledge as a teacher regularly undertaking more training including: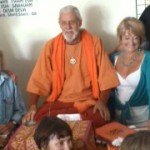 The Science of Mantra with the brilliant and in-sight-ful Muz Murray (Ramana Baba) www.mantra-yoga.com
Vigyana Bhairava Tantra, Meditation Insight and much more with Swami Nischalananda at the wonderful Mandala Yoga Ashram in Wales. www.mandalayoga.net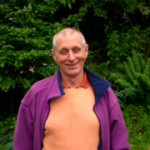 Yoga Beats Foundation course with the remarkable David Sye   www.yogabeats.com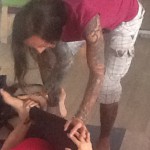 Restorative Yoga and Experiential Anatomy with Judith Lasater – treasure indeed www.judithhansonlasater.com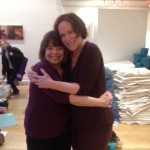 Chanting with Swami Gyan Dharma
The power of sound. Mantra helps us focus our minds and so enter into meditative states of being. We are able to embrace all aspects of ourselves, let go of habits which don't serve us and open to becoming truly empowered. With more freedom and energy I was amazed to witness how my asana practice became truly enlivened, naturally, all by itself. A deep sense of calm was able to flourish along with a good dose of joy and love. Om!    April 2018
Hatha Yoga
Hatha Yoga blends dynamic and relaxed practices that encourage you to balance being assertive/receptive, outgoing/meditative, active and restful.
Classes are relaxed and friendly which means we can get down to real business! Each session mixes stretching, gentle and strong physical practices, breath work, meditation and deep relaxation. A generous supply of equipment supports your body so you can move more freely. Each term we focus on specific practices to develop your experience. Its great to feel progress. I am happy to help with requests from students such as yoga for insomnia, back pain and digestive disorders.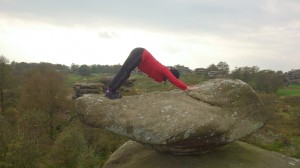 Lessons are designed to develop individual practice in a safe and challenging way. Whether a beginner or experienced practitioner, you will be encouraged to work happily to your own potential.
My ultimate aim as a teacher is to empower and motivate you to practice at home. Be it five minutes or an hour, regular practice will change your life.
Therapeutic Yoga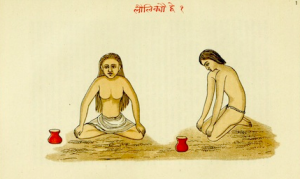 Therapeutic Yoga focuses on healing from within. It is a distinctly mindful and meditative approach to yoga. We become more aware of our breathing patterns and look to help our bodies be free from tension. We practice yoga to open the body and encourage good circulation of blood and energy. When we are relaxed and alert our bodies can enjoy optimum health. We can breathe freely and easily and so be more energetic, positive and motivated.
One of my teachers, Yogachara Dr Mukunde Bhole says, "We shouldn't ask each other, 'How are you?' but rather, 'How are you breathing?'". When our breathing is disturbed, shallow or weak the body is unable to be vital and healthy, the mind becomes agitated or depressed. When our breathing is full and free so we can experience positive states of mind and deep experiences of peace. Rich reserves and disciplines to draw upon when life gets challenging.
Classes look to help with specific conditions. Learn which asanas, yoga postures, are especially good for you. Recently we have worked to help stiff necks and shoulders, painful backs. sore throats, insomnia, poor digestion and headaches. I work with people with ME/CFS who have benefit significantly from their practice – less pain, more energy, clearer minds.
We also engage in pranayama, breathing practices to help deepen our experience and understanding of peace.
The ultimate aim of yoga is to encourage health and wellbeing so that we are open to meditation. It is in this state of mindfulness that we can sow the seeds for the best future for ourselves and all we are connected with.