Spring Yoga Retreat ~ Sowing the seeds for 2018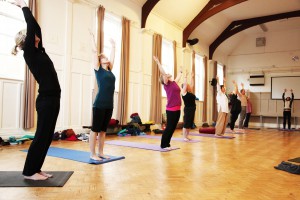 Come and enjoy a retreat with a difference. Apart from revitalising and nourishing you, this retreat is aimed at helping you get clear about your dreams for the year ahead.
A life lived with purpose is a life filled with meaning and contentment.
Enjoy
deeply relaxing Restorative Yoga
enlivening Dance Yoga
fun Partner yoga,
dynamic Hatha
Yoga in Nature – sheer bliss
learning how to give a simple yet healing Reflexology treatment to either hands or feet
creating a vision board to help you manifest your dreams for your year ahead. We are lucky to have the use of the art studio at St Marks to do this.
We have use of the fully modernised local community hall as well as the extensive grounds at St Marks, an exceptional guest house with lovely welcoming hosts. St Marks is located near Sedbergh, which is nestled between the Yorkshire Dales and the Lake District. There will be ample time to explore the stunning local countryside.
from Saturday 5 May at 2pm to bank holiday Monday 7 May at 3pm. No need for turning up frazzled on Friday night – yay! – lets start as we mean to go on. Reeeeeelaxed

Full board with delicious vegetarian meals and cakes.
Check out the great venue here at www.stmarksstays.co.uk
£240 for twin ensuite. £120 deposit secures your place. Now sold out – you can join the magical waiting list. Or look below at my brilliant Autumn retreat – more a mini festival with special guest teachers and therapists.
Feedback from this Spring's retreat
"Well what a life changing weekend. Everything seems much more vivid since and I feel an inner calm (even when facing the challenges of difficulties at work etc). I'm practising the deep breathing and mindfulness on a daily basis. Thank you for showing me the path to such awareness."   Michaela
"Thank you for an amazing experience … really touched me."   Jo
"Profoundly spiritual and practical day to day tips for a happier, more comfortable life."   Tracy
"Such a nurturing and freeing weekend. I feel lighter, brighter and free."   Sarah
 Autumn Yoga Retreat ~ a long weekend
~ a mini yoga festival – to really restore, revitalise and
heal
with special guest tutors and therapists creating this incredibly special experience.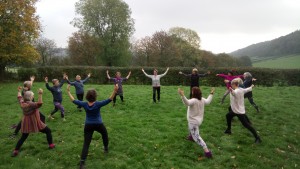 Earth warriors!
A long weekend – Fri to Monday inclusive. October 12 to 14. You can arrive late afternoon of Thurs 11 or on Friday morning – the weekend officially starting at 11 am Friday morning. Please bring food to share for Thursday evening. The long weekend will include:
energising morning yoga with Rachel Gosling
liberating dance yoga, empowering partner yoga, relaxing Restorative and inspiring Yoga in Nature with me
beautiful, heart touching kirtan on Saturday night with Vandita
Chakra dance with Andrea Jackson
Sound Healing with gongs and bowls with Craig Soulshine
healing complementary therapy sessions available (pay therapists directly)
cleansing practices: trataka and jala neti (optional of course)
meditation ~ the real aim of yoga
colouring a mandala to help support focused intent once back out in the  not very real 'Real World'.
AND … another extra by popular request ….
learn how to cook delicious nutritious food with the brilliant and very, very lovely Kate of Mindful Cooking
About me: I have worked as a therapist for over 25 years and practised yoga for over 35. The world urgently needs change and it starts with us. We get down to this serious business primarily through lots of laughter and a whole lotta love.
I like to make yoga accessible to every body encouraging self respect and kindness, exploration and liberation.
Barmoor is a huge rambling Quaker house set in the wilderness of the North York Moors. Peace and beauty abounds. There will be plenty of opportunity to enjoy free time – walks outside, reading by roaring fires. Lunch and dinner will be freshly made by the ridiculously talented Kate of Mindful Cooking. Help yourself breakfasts available every morning.
Beginners to experienced practitioners welcome.
£252 early bird price by March 21. Prices go up to £312 from then on. Maximum 18 guests – sharing twin and triple rooms and one room for four. The house can sleep a lot more but I like to encourage a sense of spaciousness together with a little happy community of friendship and ease. £84 deposit secures your place. 9 places left.
Barmoor country house, Hutton le Hole, North Yorkshire Moors
Feedback from this year's Autumn retreat
"This weekend has been brilliant"   Val
"The whole experience has been very, very special. The atmosphere has been warm, nurturing and lots of fun. I leave feeling full of joy and also brimming with love and compassion and enthusiasm."   Liz
"A wonderful weekend"  Andrea
"A fantastic weekend"   Karen
"An amazing experience."   Sally
"The venue, the programme, the food, the company, Sonia, the stars! All brilliant!"   Sam
Terms and conditions for Retreats
The deposit secures your place, the remainder being due before the end of Feb for Spring and the end of July for Autumn.  All moneys refundable as long as someone else is able to take your place minus £30 admin fee for being irritating. Most of my past events have sold out and had waiting lists so all should be hunky dory.