Spring Yoga Retreat
heaven on earth.    Friday May 17 to Sunday 19 2019     Barmoor, North York Moors, N Yorkshire
more info soon. Dear friends, if you want to be first to know contact me sonia@1body1soul.co.uk
Autumn Yoga Retreat ~ a long weekend
~ a mini yoga festival – to really restore, revitalise and
heal
with special guest tutors and therapists creating this incredibly special experience.
This has now happened – was brilliant – and so another one will happen next year. email sonia@1body1soul.co.uk to be notified first of the event – limited number of places and word is spreading.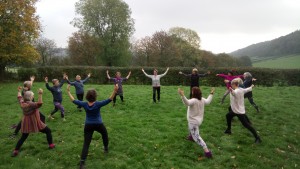 Earth warriors!
A long weekend – Fri to Sunday inclusive. October 12 to 14. You can arrive late afternoon of Thurs 11 or on Friday morning – the weekend officially starting at 11 am Friday morning. Please bring food to share for Thursday evening. The long weekend will include:
energising morning yoga with Rachel Gosling
empowering partner yoga, relaxing Restorative and inspiring Yoga in Nature with me
Yoga with Balls (er Pilates balls ..) with Rose Romani
beautiful, heart touching kirtan on Saturday night with Vandita
Chakra dance with Andrea Jackson
Sound Healing with gongs and bowls with Craig Soulshine
healing complementary therapy sessions available (pay therapists directly)
cleansing practices: trataka and jala neti (optional of course)
meditation
colouring a mandala to help support focused intent once back out in the not very real 'Real World'.
AND … another extra by popular request ….
learn how to cook delicious nutritious food with the brilliant and very, very lovely Kate of Mindful Cooking
About me: I have worked as a therapist for over 25 years and practised yoga for over 35. The world urgently needs change and it starts with us. We get down to this serious business primarily through lots of laughter and a whole lotta love.
I like to make yoga accessible to every body encouraging self respect and kindness, exploration and liberation.
Barmoor is a huge rambling Quaker house set in the wilderness of the North York Moors. Peace and beauty abounds. There will be plenty of opportunity to enjoy free time – walks outside, reading by roaring fires. Lunch and dinner will be freshly made by the ridiculously talented Kate of Mindful Cooking. Help yourself breakfasts available every morning.
Beginners to experienced practitioners welcome.
One place has just freed up! please contact me asap if you'd like it.  Maximum 16 guests – sharing twin and triple rooms and one room for four. The house can sleep more but I like to encourage a sense of spaciousness together with a little happy community of friendship and ease.
Barmoor country house, Hutton le Hole, North Yorkshire Moors
Feedback from this year's Autumn retreat
"This weekend has been brilliant"   Val
"The whole experience has been very, very special. The atmosphere has been warm, nurturing and lots of fun. I leave feeling full of joy and also brimming with love and compassion and enthusiasm."   Liz
"A wonderful weekend"  Andrea
"A fantastic weekend"   Karen
"An amazing experience."   Sally
"The venue, the programme, the food, the company, Sonia, the stars! All brilliant!"   Sam
Terms and conditions
Up to one month before the weekend all moneys is refundable as long as someone else is able to take your place, minus £30 admin fee for being irritating.